April 2023
CASE STUDY: Psychometric Assessments
Unlocking the Power of Psychometric Assessments: The importance of data-driven hiring decisions to help to grow businesses.

Overview:
Utilising psychometric assessments within a recruitment process has been proven to offer a key advantage to businesses, especially when performed and analysed by a qualified professional, in providing objective, data-driven insights.
Jonathon Gamble, JK's in-house Organisational Development Psychologist supports this, and says "Unfortunately, as much as we try and make recruitment an objective process, it's inherently subjective. Which is where psychometric assessments come in."
"Psychometric assessments allow you to have objective insights into someone's suitability for the role, whether that's from an aptitude standpoint, in terms of technical competency, like writing and analysing information, or a behavioural perspective to find out if they are naturally aligned to fit in to the team."
The JK Approach – Building a Bespoke Package:
At JK when a client employs our services to run psychometric assessments our highly qualified team takes the time understand exactly what they need out of those assessments. We understand that the solution for one business may not be a solution for others and we have a diverse range of tools at our disposal to cover this.
Our team takes the time to sit down with our clients and unpack what they need, what they want, and what insights they want to gain from performing psychometric assessments during their recruitment process.
With that information our team is then able to build a bespoke package for performing psychometric assessments and analysing the results to offer recommendations.

JK Personnel x GEKKO:
Recently, Gekko employed the services of JK's in-house Organisational Development Psychologist to perform and analyse psychometric assessments on potential candidates for key roles within their company.
JK's team of specialists assessed the requirements of the roles and the desired attributes of what a successful candidate would be. With that information, the team was then able to refer to the psychometric assessment tools available and tailor a package for Gekko based on their unique requirements. By building a bespoke package tailored to the business it allowed JK to offer the team at Gekko the most information to make a successful hiring decision.
Jonathon says "One of the reasons we've worked with Gekko in such a long-standing way is because the insights that we provide them translate into the person that they get in the seat. It's helped them welcome people into the team in a much more structured and deliberate way, and ultimately allows the business to not only make more effective hiring decisions, but also more effectively manage and support the performance of that person once they are in the organization."
Results:
Once provided with a detailed analysis and insights of candidates for these key roles, the team at Gekko were able to confidently make informed decisions on who was going to be the best fit for the role.
They were able to gain objective insights into a candidates suitability based on their aptitude, skills and cognitive ability, as well as who was going to be the best fit for the team based on personality attributes.
This has resulted in the successful placement of a well-suited candidate for a vital role within the company.
Benefits of Psychometric Assessments in the recruitment process:
Objective data: Psychometric assessments will provide objective data about a potential candidates abilities, personality traits and cognitive functioning that can help you make a better informed hiring decision, resulting in a better job/person fit.

Improved accuracy:

The data gained from well analysed psychometric assessments can help to improve the accuracy of a business's hiring decisions by providing benchmarked and validated tests that are reliable measure of key job-specific skills and abilities.
Reduce turnover: Using insights from psychometric assessments allows businesses to hire candidates that are a good fit for the role and organisational culture, helping to reduce turn-over rates by getting it right the first time.

Better onboarding:

Psychometric assessment data and insights allows businesses to recognise any gaps or areas of opportunity for growth to more effectively manage and support the performance of new team members.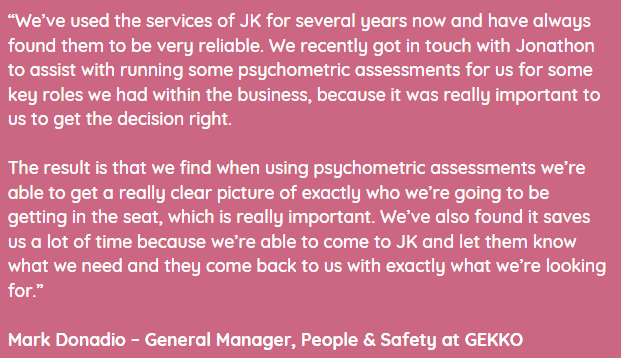 ---
Could your business benefit from our psychometric assessment services?
Request a call back now and one of our specialists will be in touch with you soon.
Or click here to find out more about the services we have available.
Back to JK Blog
Call Now